garage door repair near you in Albuquerque
We're proud to provide Albuquerque homeowners with the industry's best service.
Over our long history serving the Albuquerque community, Overhead Door Company of Albuquerque™️ has cultivated a reputation for excellence. We are a local company backed by national buying power and support in order to provide superior garage door repair services across the city and surrounding metro areas. And with over 50 trucks on the road every day, we provide 24/7 service at an affordable price.
Our comprehensive garage door repair services cover virtually anything you might need to keep your door safe and functional for your family.
Garage Door Repair
Your garage door has no concept of time or day of the week. And neither do we! Our service trucks are fully stocked and ready to roll 7 days a week. Overhead Door™ technicians will never try to sell you something you don't need.
Garage Door Opener Repair
Car trapped? Let's get you out of that jam. We service and repair all garage door opener brands – today!
Garage Door Spring Repair
At some point, wear and tear on springs can mean a number of problems for a homeowner. We are your spring experts!
Planned Maintenance Program
An annual plan to make sure your garage doors and openers run smooth and safe well into the future. Safety first – No surprises later.
Additional Repairs & Services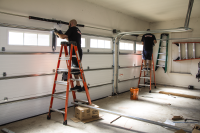 Garage Door Installation
From start to finish, Overhead Door Company of Albuquerque ™️ makes it easy and simple to purchase and install a new garage door—and haul away your old model. We conduct professional, thorough, education-focused consultations and meetings so you feel informed along every step of the way.
Garage Door & Sectional Garage Door Replacement
The same great service as our garage door installation services, plus the removal and haul away of the old garage door and replaced parts.
Electric Garage Door Openers
It's imperative that our garage door open and close safely and efficiently. Our electric garage door opener experts are highly trained in diagnosing issues and repairing, adjusting, and lubricating it as needed. We provide thorough inspections of the opener itself, the mounting of the unit, and its attachment to your garage door.
Garage Door Torsion Spring Replacement
One of the most crucial parts of your garage door is a torsion spring, which winds around a shaft to generate enough energy to lift your door. It's also one of the most dangerous garage door parts to try to "DIY" or otherwise handle by someone untrained. Our technicians are highly trained and experienced in proper techniques for releasing the tension of the spring without risking damage to your car or even the garage door itself.
Repair Off-Track Garage Doors
An off-track garage door can easily jeopardize your family's safety by enabling your door to fall or collapse. Call Overhead Door Company of Albuquerque ™️ to expertly service and restore any rollers that aren't on their guide track properly.
Repair Sagging Garage Doors
Over time, your home's garage door can go through a natural shifting process along with your aging home. Occasionally, it is necessary to realign—or reinforce—your door. Our technicians can inspect your garage door opening for damage, and adjust the doors as necessary.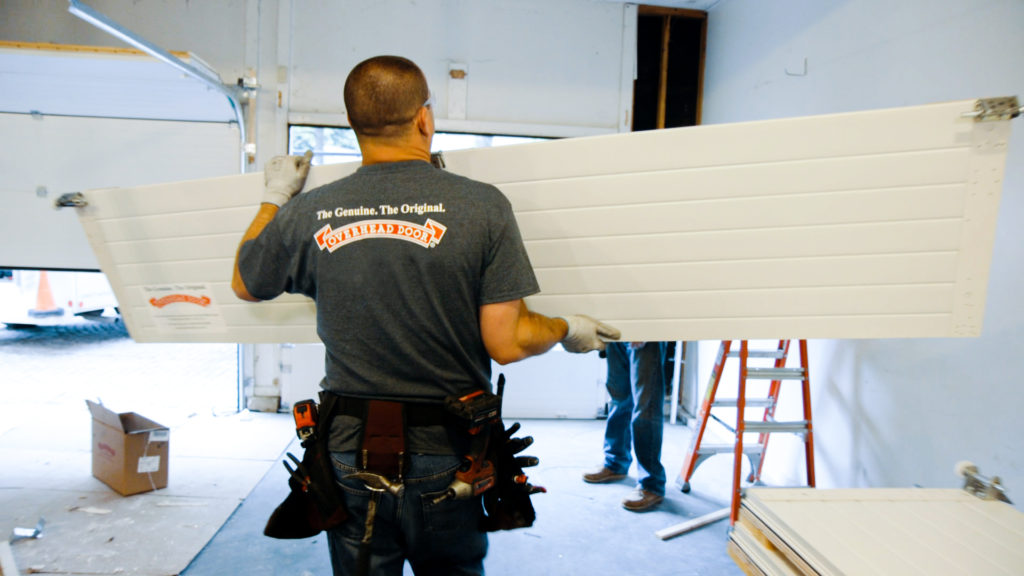 Garage Door Panel Replacement
After a storm, an accident, or simply with age, many of our customers find that they need a single panel or section of a garage door replaced, rather than purchasing an entirely new door. Overhead Door Company of Albuquerque ™️ can easily replace a single garage door panel to save your family both time and money!
Garage Door Roller Replacement
Properly functioning garage door rollers (wheels) will help to keep your garage door running quietly and efficiently. When a guide wheel leaves its track, our technicians can quickly and easily replace and/or upgrade them.
Garage Door Cable & Broken Spring Replacement
Often, essential garage door cables and springs (made of steel) are packaged together—the cable connects the spring to the door. However, many homeowners aren't sure when it's time to replace their cable or spring. Monitoring rust, wear, or other damage is the main way to ensure you keep your door running smoothly. Need additional help? Our technicians can provide a thorough inspection and recommendation on when to repair or replace your garage door spring or cable!
Garage Door Tune-up, Safety Inspections, & Preventative Maintenance
As with any other part of your home, preventative maintenance can help add to the life of your garage door—and grant you and your family peace of mind. Overhead Door Company of Albuquerque™️ can provide friendly and professional inspections on an annual basis. Then, we provide you with a comprehensive evaluation and will include recommendations for minor adjustments, repairs, and/or lubrication for your door.
Wireless Key Pads
Troubleshooting any programmatic issues or physical damage to a wireless key pad can be difficult for an untrained homeowner. Our technicians can reset and/or repair these tools to help your door run smoothly for years to come.
Additional Remotes
Need additional remotes? Our service technicians can program a new remote opener to sync with your garage door.
Repair All Brands of Existing Openers
Great news! Overhead Door Company of Albuquerque ™️ happily services and repairs any brand of garage door opener.
Making your vision a reality
Overhead Door Company of Albuquerque™️ has the expertise and resources available to give you home improvements that last a lifetime. Get a quote today and schedule a free in-home estimate with the most dependable garage door installers in New Mexico!
Need more info?
Contact us at any time for answers to all of your door repair, replacement, and installation questions.